Sometimes, I use affiliate/sponsored links with my recommendations, which if bought through might earn me a few pennies at absolutely no extra cost to you. This helps with the cost of keeping this site alive so I can continue to guide you on your travels. Please remember that I would never ever ever recommend anything I don't or wouldn't use myself. Big thanks to each and every one of you who have trusted my recommendations so far! Lozzy x
One of the best Quito day trips on offer, Otavalo is an indigenous stronghold, famous for the Otavalo market, an everyday occurrence that's said to be the largest in South America. Tourists flock in just to see this market in action. The city is just a couple of hours in a bus North of the capital, which is what makes Otavalo market such a popular Quito day trip (book here!), but there's a lot more to see around the city than inside it, so at the very least a 2-night stay in Otavalo would be recommended if you have the time.
The area is also home to one of the best waterfalls in Northern Ecuador – Peguche waterfall.
After this guide to Otavalo markets, Peguche waterfall and more, you may also like to read:
The region is known for its solid cultural roots continued in full force by the Otavalo people. The Otavalos are one of the wealthiest ethnic groups in Ecuador, and they show it off in the shining gold jewellery and the rich, hand-woven fabrics of their traditional clothes.
Here's a video of 3-day stay in the town, featuring some of the things to do in Otavalo listed below!
Want to skip to something in particular?
Otavalo Elevation
In Otavalo, elevation is 2,532m, which is on the cusp of the elevation that people are at risk of feeling altitude sickness, though most people are absolutely fine. If you're coming as part of a Quito day trip and had no problems there, you should be perfectly fine as the Otavalo elevation is actually 300m lower than Quito.
However, those coming from the South (most commonly Guayaquil, Montañita, the Galapagos Islands or the Ecuadorian Amazon) may struggle a little with the Otavalo elevation for the first couple of days. Typically, this feels like a hangover, with a headache, nausea and fatigue, but if you develop more serious symptoms such as vomiting it's best to get checked out.
To deal with the Otavalo elevation, Ecuadorians like to use the ancient remedy of coca leaves, either chewing them directly or adding them to a tea, which is much more palatable. You can also get medication to ease the symptoms at pharmacies.


Otavalo Market
This is the main draw of the city, and is said to be the largest market in South America. You'll see stalls in the main square (Plaza de Ponchos) all week round, but come Saturdays and Wednesdays the surrounding streets are chock-a-block with stalls for several blocks in every direction.
In fact, the market has taken up so much of the town that it has its own main square, with another, more traditional-looking square for people to meet, play instruments and mingle after church in being up in Parque Simon Bolivar.
The Otavalo market starts early morning and typically shuts at around 4pm on a weekday, but on Saturdays and Wednesdays you can still peruse vendors' wares until around 6pm, though some Otavalos pack up earlier to get home to their respective towns. Take this into account when planning to come for just a Quito day trip.
In Otavalo market, you can expect to find everything from handwoven fabrics to jewellery to tourist souvenirs to decorative swords. There's a smattering of traditional food stalls cooking up a storm too, of course, and fresh fruit juices to sip on as you get lost in the maze of Otavalo market's stalls.
And while Otavalo market features plenty of handwoven textiles and clothes, if it's leather you're looking for in particular, you may consider heading 20km on a $0.35c bus to Cotacachi Village, which is famed across Ecuador for its specialism in leather (just give yourself time to get back if you're on a Quito day trip!).
Can you barter at Otavalo market?
Yes! But be kind. Haggle for what you believe is the market rate in Ecuador (don't settle for the market rate in your home country!), but be careful not to insult the value of skilled handiwork.
Otavalo animal market
Between 6am and 12pm on Saturday mornings only, you can visit the Otavalo animal market just outside of Otavalo town. Now, the Otavalo animal market is not for the faint-hearted, but it's an enlightening look into where your food in Ecuador is coming from. Chickens, horses, sheep, guinea pigs and more are traded like, well, animals, and the sounds and smells can be quite overwhelming. Vegetarians and vegans might want to sit this one out.
To get to the Otavalo animal market, you can take a taxi for $1.25 or walk across the Panamerican Highway.
Things to do in Otavalo, Ecuador – other than Otavalo market!
Catch views from Arból el Lechero
Honestly, we found this a little odd to visit; it's essentially a small, fenced-off garden with a small tree in the middle, right on top of a hill. Legend has it that two star-crossed lovers couldn't bear to not be together, so transformed themselves into the lake and the tree, so they could look over one another for all eternity.
It doesn't cost anything to get up to the tree, but you'll either need a private car or taxi to get there, or get the bus along the main road and walk fairly far uphill through the village there.
To be honest, better than the tree itself is the view of the San Pablo Lake from the top of the hill, and the look into ordinary life in the village below it.
Watch the Flight of the Condor Bird show
Every day at 12pm, you can watch the Otavalo Flight of the Condor bird show at the Parque Condor. Entry to the park costs $5 and is an educational look into the behaviours and conservation of the birds there – but not just condors!
This is just a few corn fields away from El Lechero, but far enough from the main road that a private car or taxi is recommended to get there.
Get active around Lago San Pablo
Not visited by tourists nearly as much as it should be (mainly because they usually won't have time to appreciate this and Otavalo market during a Quito day trip) is the 83m deep Lago San Pablo. This lake is pretty massive – not quite on the scale of Lake Atitlán, but at 583 heactares it's pushing impressive all the same. Lago San Pablo can be found 3.5km east of the city of Otavalo, which you can easily access by bus or taxi.
Several water activities are available on the lake, such as motorboat rides, kayaking and kitesurfing. You can also hike or rent bikes to explore the mountain trails around Lago San Pablo.
Walk to Peguche waterfall
The Peguche waterfall, with an 18m drop, is located in a community-managed protected forest park 3km outside of Otavalo. You can either walk, take the bus from Parque Simon Bolivar or grab a taxi off the street for just $2 each way.
Make sure you arrange with your taxi driver to return to pick you up in an hour or two, depending on whether you want to have lunch in one of the small restaurants outside the park entrance.
When you arrive at the park entrance, you must sign the register in the cabin to the right, and pay a $2 fee plus make an additional a donation of your choice to help maintain the park. Providing it isn't raining and muddy, the walk through the park to the Peguche waterfall is easy and pleasant.
We would normally rather poke our own eyeballs with a biro than hike up any sort of incline, especially at levels of Otavalo elevation, but this one was actually an enjoyable 15-20 minutes on mostly paved path.
The Peguche waterfall is pretty powerful, and the spray will leave you damp if you get too close, but the little bridge over the river is a perfect viewing platform. There are some steep trails that lead up and around Peguche to a second waterfall and some caves, but when we were there the trails had been blocked off.
Peguche waterfall is very important in the indigenous Kichwa culture, and is used for a purification ritual for the Inti Raymi the Inca solstice on 24th June and summer solstice on 22nd December. For this reason, please be respectful when you go, and as always, leave no trace of your visit.
It's best to visit the Peguche waterfall on a weekday morning, as weekends and after school are likely to be busier with locals, especially outside of rainy season. We went during a damp Friday morning and at one point had the waterfall to ourselves.
– Visit the village in Peguche Forest
Just on from the waterfall, on the other side of the river from the path you took from the entrance of Peguche, you'll come across a traditional indigenous village. Whether or not people actually live here or if it's just a ploy to excite tourists we never really worked out for certain, but it looks pretty authentic, and is run by the local indigenous people.
Let's be real here, the primary aim of this village is now to attract tourists, but they've done a pretty good job of taking advantage of what's in their backyard whilst still keeping it true to reality.
There are some tunnels that for $2 you can be guided down if you have the time, and several exhibitions to read with souvenirs to browse.
One thing though – don't take a photo with the llamas unless you're prepared to pay a dollar. Even if the man who owns the llamas is not anywhere in the vicinity, and you don't see the '$1 for a photo' sign because the llama is literally standing on top of it, angry llama man will run over and shout at you for the disrespect until you delete said photo and scurry away apologetically.
– Soak in Peguche thermal hot spring baths
After you've finished your waterfall hiking and llama papping, you can cool down from all the excitement of the day in the Peguche hot springs. They can be found about halfway down the hike back to Peguche park entrance, downhill about 100m – luckily they're clearly signed!
The Peguche hot springs cost a little extra to swim in, but they've been beautifully built to look like a basic spa in the wilderness, with the river flowing by beneath you.
How to get to Otavalo market from Quito, Ecuador
The Otavalo to Quito line is serviced by two bus companies – Cooperativa Los Lagos and Cooperativa Otavalo. These buses are pretty ok, and you can buy your tickets on the day from the Carcelén terminal in northern Quito and the main bus terminal in Otavalo on Calle Atahualpa with Jacinto Collahuazo.
Buses run about every 20 minutes in both directions, and take around 2 hours for $2.50. In Quito bus terminal, you'll need to also pay a $0.20c terminal fee.
Alternatively, you can let someone else take the stress of working out how to get to Otavalo for you with an organised group tour. These can just be a Quito day trip to see Otavalo market, or part of a multi-night trip to discover a bit more of the country.
Where to stay in Otavalo, Ecuador
Don't just come for the Otavalo market, stay a couple of nights to explore the area more! Our accommodation of choice is El Andariego (image below); the beds are mega-comfy and the little man who runs it is SO LOVELY. His son is unfortunately less good at being awake to let you in during the night shift, so make sure you give them a rough time for your return if you're planning on staying out late, and take down a phone number for the place.
Alternatively, we very nearly booked The Flying Donkey for it's low prices, and having seen it in person whilst chilling around Otavalo we still view it as a solid choice.
There are decent places to stay stay in several of the towns surrounding Lago San Pablo, such as Communidad Araque and San Rafael de la Laguna, great if you want to experience more of a rural feel during your stay in Otavalo.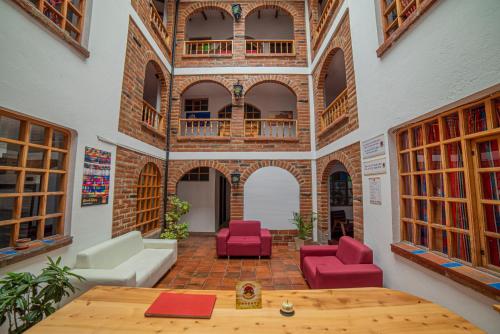 Where to eat in Otavalo
A few blocks out of the centre, Hornado serves up some global award-winning pulled pork of the same name. Expect to leave the restaurant well and truly plump.
In the centre of Otavalo, we fell in love with the little Mexican restaurant, El Jalapeño. Just a few dollars will get you burritos or tacos freshly made and drizzled in runny guac sauce. The tiny restaurant is rammed with locals, especially after the closing of the Otavalo market on a Saturday.
Mi Otavalito is a restaurant dedicated to the food and decor of the region, which oddly seems to be run by a European lady in traditional Otavalo dress, but the chefs are local, and the food is incredible all the same.
To chill as a half-time break during your browsing of Otavalo market, you MUST stop in at Muyu Chocolate & Coffee on Calle Sucre Entre Colon with Morales. It's a wonderful way to sign off a Quito day trip. This teeny café specialises in all things cacao, and while you browse the floor-to-ceiling bars of chocolate, they'll brew you up a cup of some of the nicest coffee or a hot chocolate with extra love and care. We recommend giving some weird and wonderful flavours of chocolate a try too – the lemon chocolate is our fave!
Where to go for beers in Otavalo
There's basically only one main area of mainstream drinking establishments in the city centre of Otavalo, from Morales with Sucre to Quiroga with Avenida Quito. Our favourite bars were The Red Pub for its excellent live music and talkative staff, as well as La Taberna for its great-smelling food and general cosiness.
There is a newly-opened microbrewery in Otavalo called Muyu (different from the Muyu Chocolate & Coffee shop!). Muyu Beer Garden boasts a roof terrace on which to sip your craft beer.
Where to go after Otavalo, Ecuador?
After you've shopped till you dropped at Otavalo market and seen all there is to see outside Otavalo, Ecuador, heading south we would recommend either taking a trip down to the adventure capital of Baños to chase some more waterfalls, then experiencing the Ecuadorian Amazon in Puerto Misahuallí. If you're on your way north to Colombia, Otavalo is the perfect last stop in Ecuador before crossing the Tulcán border by foot and visiting the incredible El Santuario church at Ipiales.
Fancy staying around the capital? There are plenty of other Quito day trip options, such as hiking the crater of Quilotoa Lagoon, or take a more relaxed approach in the hot spring resort of Papallacta.
Well, are you ready to pack your bags off to Otavalo, Ecuador's indigneous stronghold yet?! Hopefully we've convinced you that there's more to see here than just Otavalo market – interesting as Otavalo market may be! If you have time, give the city a couple of days to see (/taste!) all it has to offer. For those still stuck on planning a shorter trip to Ecuador, have a read of our 2 week Ecuador itinerary.
Now that you've reached the end of this guide to Otavalo markets, Peguche waterfall and more, you may also like to read:

Liked this post on Otavalo Market PLUS all the things to do in the area that aren't Otavalo Market?
Give it a cheeky pin on Pinterest to be able to find it again later!
Last Updated on 3 February 2023 by Cuppa to Copa Travels