Sometimes, I use affiliate/sponsored links with my recommendations, which if bought through might earn me a few pennies at absolutely no extra cost to you. This helps with the cost of keeping this site alive so I can continue to guide you on your travels. Please remember that I would never ever ever recommend anything I don't or wouldn't use myself. Big thanks to each and every one of you who have trusted my recommendations so far! Lozzy x
León was my first stop in Nicaragua, and a great introduction to this corner of Central America. As a student city, León is vibrant and bustling, with the climate providing sticky heat at every turn. This guide will go through the best hotels and hostels in León, how to get there, which León restaurants to eat in and of course, what to do in León Nicaragua.
How to pronounce León: lay-ON
This city was affected by the 2018 civil unrest, with protests and barricades that lasted for months, but looking at the place now, you wouldn't know it. Definitely enroll yourself on a city tour if you're interested in finding out more. Before the pandemic, tourism in Nicaragua was just starting to pick back up again, though many travellers were still wary of the country's reputation for political instability.
After this guide on what to do in León, Nicaragua, you'll also enjoy reading:
León is a really good place to get a well-rounded view of Nicaragua, with all the boxes ticked – colonial architecture, friendly locals, active volcanoes, nearby surf beaches, backpacker parties and modern history. It's a great city to start in if you're flying into Managua, which, despite being the capital city, doesn't have half as many interesting and safe things to do as León.
Want to skip to something in particular?
What to do in León, Nicaragua
1. Cerro Negro volcano boarding tour
Here's the thing to do in León that put the city firmly on the Gringo Trail! The Cerro Negro volcano boarding tour from León usually starts with you choosing a gimmicky t-shirt, then a very bumpy ride past cattle and villages through the countryside, then a moderately difficult hike up the volcano itself.
You'll have a chance to admire the crater and the RIDICULOUS landscapes from the top, but then what comes up, must come down. And by 'come down' I mean 'senselessly belt it down a 728m-tall mound of ash at high speed, praying that you don't roll at the bottom'.
If this sounds reckless to you, don't worry, it absolutely is, but it's also an incredibly fun day out from León, and to be perfectly honest nothing will help you make new backpacker friends more than trauma-bonding.
Personally, I found the hike quite hard, but one of our tour guides offered to carry our boards (which are basically wooden toboggans) up for us at a very justifiable charge of 100 Córdobas. The boards are cumbersome, and I have zero idea how the guy managed to take several at once. If you are set on taking the board up yourself, your best bet is to tuck it behind you through the straps of your bag.
Fun fact: Cerro Negro is an active volcano, and the youngest in Central America.
The volcano boarding itself is pretty exhilarating, and easy to do as long as you remember to pull up the front of your board using the rope. If you're on the lighter side, you won't go down as fast, so you'll want to streamline by tucking yourself in tight! You can watch Andy's video of our Cerro Negro volcano boarding tour on Youtube.
What to bring to the Cerro Negro volcano boarding tour?
For the Cerro Negro volcano boarding tour from León, you'll definitely need to bring some decent walking shoes and wear socks (ash gets everywhere), and bring something that resembles a balaclava with which to cover your mouth as you go down.
Our tour offered balaclava rental for an extra 70 Córdobas. You'll be given goggles, gloves, a protective jumpsuit and a bag to put all this gear in. Don't bring too many valuables, you'll want a light backpack.
Who to go with for the Cerro Negro volcano boarding tour?
I went on a tour with the very popular, locally-owned Volcano Day, mainly because they give out the most iconic 'Today is going to be a volcano day' motif t-shirts and they gave us all a ticket on the party bus to Las Peñitas that night (just call me a basic bitch already).
The guides were fantastic, safety felt as on-point as you'd expect for Nicaragua and the vibes were great. These are bigger groups, but they do get booked up due to the tour company's reputation amongst backpackers, however you can pre-book with highly-rated smaller-group companies if you know your travel dates.
2. Flor de Caña Rum tour
Rum-lovers will be excited to hear that the world-famous pride of Nicaragua, Flor de Caña rum, has a distillery not far from León. You can visit this distillery and get a guided tour for $10 USD. At the end of the tour, put aside some time to chill in their rum bar.
Now, the Flor de Caña rum distillery actually sits in a town called Chichigalpa, so requires a 30 to 45-minute bus ride out of the city of León. This bus will cost you 20 Córdobas ($0.60 USD), and leaves frequently from the main bus terminal. The Flor de Caña distillery is situated just before the centre of the pueblo, so let the driver/assistant know where you'd like to get off.
If you want everything smoothly sorted out for you with some comfier transport included, opt to see the Flor de Caña distillery as part of the 10-hour private tour of León, Nicaragua.
3. Scale the Telica Volcano at sunset
Want to make your volcano hikes more challenging? Why not do it in near darkness! Just kidding; this sunset hike up Telica Volcano is safe and you *probably* won't trip up over your own feet. You'll leave León at around 2pm and hike for 3-4 hours to watch the sun go down beyond the peaks of the miles and miles of volcanic landscape.
Even more exciting, Telica Volcano is one of Nicaragua's most active lava spewers. You'll see some of the lava when you peer into the crater. Bring good shoes, lots of water and a torch, if you can.
4. Bleach your retinas on the roof of León Cathedral
I mean, that's not the main draw, but the roof of León Cathedral is so white – SO WHITE – that it'll take some time for your eyes to adjust. While the inside of the León Cathedra; (aka Basílica de la Asunción) is cool and all, it's the 360 views from the top that really get people going.
To access the roof of León Cathedral, head to the small entrance at the very back of the outside of the cathedral, where you can buy your ticket for 98 Córdobas. Then, take this ticket to the side entrance of the León Cathedral, and head up the staircase, into the bell-tower and up onto the glorious whiteness.
You're not allowed to wear shoes (including flip-flops) on some sections of the cathedral roof, so make sure you bring some socks up with you. The roof of León Cathedral closes to the public at 4:30pm.
5. Chill out at Las Peñitas
What to do in León when you're in need of a beach day? Head down to Las Peñitas, of course! Las Peñitas is a village not far from the city, with a gorgeous beach and catchy waves. There is a line of beach bars from which to sip some inexpensive rum cocktails – some of which have swimming pools – and a few surf schools.
It's an easy but hot 30-minute chicken bus ride from El Mercadito to get there from León; definitely bring a fan with you. Just be aware that on Thursdays the peace of Las Peñitas is broken by my next point on the list of what to do in León, Nicaragua…
6. Embarrass yourself on the party bus
What is backpacking if not a chance to relinquish adulthood and down shots on a pimped out American school bus? This bar crawl party bus leaves every Thursday from Bigfoot Hostel in León and ends at Finding Pool Hostel on the beach of Las Peñitas for sunset. It's embarrassingly tacky and wildly fun.
There are a few locals who seem to hop on the party bus religiously every week, but as you might suspect, it is mostly backpackers crammed onto the sticky seats. [Sorry, Andy].
7. Get cultured at the Museum of Legends and Traditions
As the name might suggest, the Museum of Legends and Traditions is a place to get to know the beliefs and cultures of the area. Marginally bizarre mannequins, interesting paintings and local guides tell the stories that should never be lost.
Even the building itself is shrouded in history; it was a prison until 1979, and a place where people would have been regularly tortured under Nicaragua's Somoza regime.
The museum is open 8am-5pm every day, and entry costs 50 Córdobas.
8. Go back in time on a Colonial León Tour
This Colonial León tour actually covers a lot of the above ideas for what to do in León. Nicaragua has such as wealth of history from the Spanish colonial era, which is clearly evident in this city's beautiful architecture and religious monuments.
The tour will guide you through the stories of times gone by, passing through the Museum of Legends & Traditions, the Ruben Dario Museum (in the old house of the famous poet) and the roof of León Cathedral. You'll also see the remnants of the old town of León (Viejo León) before it was hit by a large volcano eruption, and you'll get to learn about the city's indigenous population.
Alternatively, you can reserve a place on the León original free walking tour for a slightly more modern twist. Just remember to take cash as the only way the guide gets paid is through your tips.
9. Float through the Somoto Canyon
Even though the famous Somoto Canyon is a chunky 4 hours away from León, Nicaragua's best spot for tubing is still accessible as a day trip.
This private Somoto tour from León will take you through rivers, waterfalls and gorges to show you the adventure that Somoto has to offer, all in one day.
Best hotels & hostels in León, Nicaragua
Amongst über-social backpackers, Bigfoot is the best hostel in León. There are events every day of the week, ranging from film nights to rowdy bar crawls and a beer pong tournament that invites people from any other hostel in León to join. The accommodation itself is super-basic and not a place for clean-freaks (yeeeah, it's kinda grim), but as the most budget-tight of travellers say, it does the job.
Another basic budget hostel in León, but this one is known for its relaxed atmosphere and hammocked courtyard. It's a teeny bit out of the way of the hustle and bustle of the city centre, so a great place for some peace and quiet.
Well, ain't this just the dream? Sticking to the historical roots of León, Hotel El Convento is built into a colonial masterpiece, compete with modern-day swimming pool, obviously.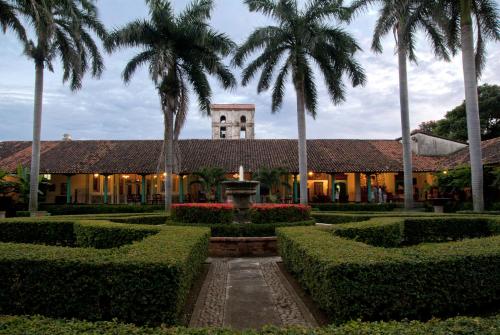 Where to eat in León, Nicaragua
Tacos Marlene
This was recommended to us by the local guy working at our hostel. It's absolutely zero frills and feels a bit like Aladdin's cave with how far the seating goes back, but it's cheap, cheerful and tasty AF.
Coco Calala
Here's what to do in León if you're in need of some tenderstem lovin' care. Coco Calala is known for their delicious (but slightly more pricey) vegan and vegetarian dishes served up next to the pool (and yes, customers of the restaurant can have a day pool pass for an extra $3 USD). Give your body the nutrients it so craves!
Mañana Mañana
Total digital nomad hang-out. Mañana Mañana Café is perhaps not the place for a full meal, but it's a great spot to find yourself with a chocolate brownie and a latte, ready for a few hours of hammering away at your laptop. It's a popular place for tours to meet, since it's so central.
Tabaco y Ron Lounge
A couple of streets from the quieter side of the main plaza, Tabaco y Ron Lounge is the place to get a proper menú del día lunch – with a starter, main and drink for just a few USD.
They have live music and karaoke nights, too!
Los Chinitos
For local fills on a budget, Los Chinitos buffet is one of the heartiest restaurants in León. Make your way down the hotplate counter and stuff your face with a pay-per-gram mix of Nicaraguan and Chinese dishes.
Where to grab a drink in León, Nicaragua
Via Via
This is another backpacker hangout, but a little more contained that the wild parties of Bigfoot Hostel. León's many day tours often start and end here, which means it always has a bit of a buzz, and sometimes live music to add to that.
El Sesteo
This gets a mention for its amaaaazeballs location, right on the corner of the main plaza. Grab a beer or two here and watch local life go by.
Bar El Mirador
Another smashing location, this time because of the bar's views. It hovers a few storeys above the basketball court, which makes it a crackin' place to find yourself at sunset.
Getting to León, Nicaragua
León is one of Nicaragua's most major cities, so the chicken bus links are pretty frequent, though lots of routes (including getting from Granada to León and vice versa) will need to include a connection in Managua. Don't worry though, all very simple, and the bus assistants will be able to point you to the right bus.
To get chicken bus/public minibus route to León from the Honduran border at Guasaule, change at Chinandega. If crossing over from Honduras at El Espino, Estelí is your connection to León.
The only annoying thing about getting to and from León is that the bus terminal is quite a way away from the centre of town. This isn't too much of a problem during the day as a taxi will only cost around $2 USD, but at arriving at around midnight after an arduous journey from Tegucigalpa in Honduras, we got stuck with no other option than to load into a bicycle-drawn tuktuk since that area of the city was eerily dead.
Not only is it kinda painful to watch a human being move you and your luggage by cycling (even if he was mega strong and chatting away merrily – we wouldn't have done this if we weren't worried about safety in a rough part of town will everything we owned on our backs), but there's a common scam among these tuktuks that they quote a price for the outskirts of town, then when you get near the centre (still several dark blocks from where you need to be) they demand more money.
If you can, try and plan your arrival for earlier in the day.
There is of course always the option of paying more for a private shuttle transfer. These are easily arranged with your hotel. For crossing the Honduras border, these come in the form of the Ticabus, and cost $26 USD. Worth it for the hassle, if you ask me.
Safety & social issues in León, Nicaragua
While for the most part I felt quite safe once I got to know León a little better, there was an element of feeling very uncomfortable with the amount of cat-calling in the streets, even from prepubescent school boys. Just like Granada, it seems to be the norm for males of all ages to shout obscenities and whistle at any female showing signs of a pulse. With this lack of respect for women's comfort and wellbeing alarmingly clear, it goes without saying that I was extra vigilant when it came to being out and about on my own.
Pick-pocketing is something my hostel warned me about, so as usual, never lose sight of your things and don't be flashy in public.
When you're sat eating, it is quite normal for beggars to come up and (usually very politely) ask for food, so I made a habit of ordering too much so I could take a box for someone.
Now you've reached the end of this guide on what to do in León, Nicaragua, have a read of:
Liked this post on what to do in León Nicaragua?
Save it as a pin on Pinterest to be able to refer back to later!
Last Updated on 12 March 2022 by Cuppa to Copa Travels