Sometimes, I use affiliate/sponsored links with my recommendations, which if bought through might earn me a few pennies at absolutely no extra cost to you. This helps with the cost of keeping this site alive so I can continue to guide you on your travels. Please remember that I would never ever ever recommend anything I don't or wouldn't use myself. Big thanks to each and every one of you who have trusted my recommendations so far! Lozzy x
After the fairy-lighted magic of Tulum and the spotless streets of Playa del Carmen, Lake Bacalar was the first place in Quintana Roo that I really felt like we were truly back in traveller mode. Used to hearing only booming American voices for the previous 8 days, we were surprised to once again hear a majority of British, German and Dutch accents from tourists.
Unapologetic in its normalcy, the town of Bacalar is large enough to be interesting, but only boasts a few bars, a handful of restaurants and a smattering of accommodation options.
After this post on the things to do in Bacalar, Mexico, you'll also enjoy reading:
The real reason people come to this area isn't the authentic feel of small town Mexico, though, it's the gorgeous turquoise lake upon which it sits. Stretching over 42km, Lake Bacalar is an absolute wonder; offering perfectly calm waters of the bluest hues, with the peace of all the lush nature that surrounds it.
Most of the things to do in Bacalar of course revolve around the lake, and this is without doubt a spot in Mexico to unwind and relax to the fullest rather than go out to seek crazy adventure. Spending time around Lake Bacalar forms a key part of my 2-week itinerary for the Yucatán Peninsula.
You can see how we spent our time exploring the things to do in Bacalar here:
Want to skip to something in particular?
Swimming in Lake Bacalar
Because Lake Bacalar is home to stomalites, rocks that are formed over thousands of years of biomes building up, you're asked not to wear any sunscreen when you swim in the water. Even biodegradable sunscreen damages Lake Bacalar's ecosystem. Instead, bring something to cover up your skin, like this.
There are lots of hotels and hostels built around Lake Bacalar that have their own private jetties, but you can also access the lake for free at one of the newly-constructed public docks, or balnearios.
If you don't want to swim, the best thing to do in Bacalar to see the lake is to paddle out by kayak. You'll be able to get out onto deeper parts to see the stomalites and a few fish. Kayaks are available to rent from accommodations and all over town.
Where to stay in Bacalar, Mexico
Accommodation in Bacalar ranges from expensive retreat-style boutiques to simple rooms with an eco feel. Things do tend to get a lot pricier as you head lakeside, and some people simply prefer the buzz and choice of staying in the town, visiting Lake Bacalar by day.
When in Bacalar, we were fortunate enough to experience both worlds, as the hostel we collaborated with to provide content for had options both in the town centre and on Lake Bacalar itself.
Yaxche is a growing locally-owned hostel which has strong backpacker vibes in the hostel in Bacalar town and an incredible place to find peace in a cabin or tent at their separate ecocamping grounds right on the lake. For those who stay in the Yaxche Hostel in town, there is a free ride down to the lake site at 10am every morning and back at 3:30pm.
The lakeside Yaxche boasts hammocks, a restaurant, swings in the water and plenty of places to take in the beauty around you.
We found Yaxche to be a great place to meet people, and we made friends there that we then continued to travel with through Belize. It's just an open, friendly place!
Those who want more luxury should consider staying on Lake Bacalar at Casa Bakal. This place is bloody phenomenal!!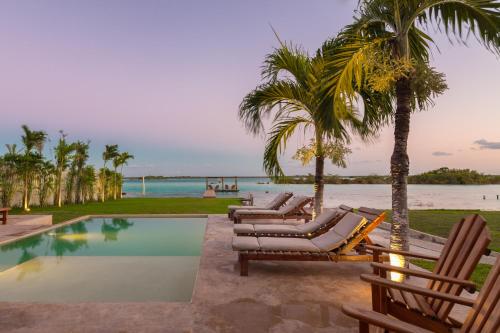 9 amazing things to do in Bacalar, Mexico
Being sat on a huge stretch of water, there are plenty things to do in Bacalar. In no particular order, here's my top 9:
1. SUP on Lake Bacalar at Sunrise
Although you won't see the turquoise colour of the water, of course, one of the most magical things to do in Bacalar is to go SUP (stand-up paddle-boarding) on the lake at sunrise. Take a look at this 'ere highly-rated 3-hour SUP tour that takes you through the pirate route to several parts of Lake Bacalar as the sun comes up.


2. Make a splash at one of Lake Bacalar's 4 cenotes
Lake Bacalar boasts 4 large cenotes, which are deep pools found all over the Yucatan Peninsula. Cenote Negro (also known as Cenote de la Bruja or Witch's Cenote) and Cenote Esmeralda (Emerald Cenote) both sit on the edge of the lake, sharing the same water. Cenote de la Bruja is shrouded in Mayan legend of an old woman who performed rituals there, and reaches as far as 90m in depth. However, Cenote Negro takes the biscuit with a depth of 180m!
The other two Lake Bacalar cenotes, Cocalitos and Azul, are separated from the lake by small strips of land, and are well serviced by restaurants and places to hire snorkels and kayaks.
All can be visited in one day by taking one of Lake Bacalar's popular sailboat tours (there are plenty of options on Viator that take you round lots of the top things to do in Bacalar!), and if you feel up to kayaking a few kilometres in 30 degree heat that's not out of the question.
Mega-quirky readers of mine might also consider the option to cycle on Lake Bacalar. Yep.
3. Laze around on a lake dock
The best way to do this is undoubtedly to find accommodation or a beach club with its own private jetty (check out Balneario Cocalitos or Los Aluxes), but if you're on a tight budget you can make use of one of Lake Bacalar's public docks, such as Balneario Municipal.
Do note though that the free ones can get pretty busy on weekends and national holidays!
4. Stuff yourself at La Playita
This is Lake Bacalar's most famed 'beach' club, that offers a cocktail bar and highly-rated restaurant shrouded by jungle and edged by the turquoise water of the lagoon.
It's a real hit with travellers to Lake Bacalar for a place to eat, get merry and relax, day or night.
5. Get carried away by Los Rápidos
These are small river rapids that sit just south of Bacalar town. The area is a hotspot for stomalites, so remember my tips about swimming in Lake Bacalar, and make sure to bring a snorkel!
You can bathe peacefully in the rapids or make a splash from a diving board for a 50 pesos entrance fee.
The area is serviced by a (cash-only!) restaurant so you can easily spend a whole afternoon there.
6. Get to know Bacalar's piratey history
Right off the central plaza of Bacalar town, it's hard not to notice the brick fort bravely guarding the town on the banks of Lake Bacalar.
Fuerte San Felipe was constructed in 1729 to defend the area from the real-life Pirates of the Caribbean, but nowadays it's home to a collection of artefacts and murals from that time, and a small lookout tower that you can climb for a better look of the landscape.
Admission is 60 pesos for foreigners, and the fort is not open on Mondays.
7. Climb on a shipwreck
…And talking of pirates, just opposite Bacalar town lies Canal de los Piratas or Pirates' Channel. The channel itself is historically cool as the place pirates would do battle and hide around Lake Bacalar before looting the town.
While lots of all-day Lake Bacalar tours will stop at this spot, you can also get there yourself via kayak.
There's no entrance fee, and also no fee for the natural exfoliation treatment you can give yourself with the mineral-packed sulphur clay beneath your feet, nor the pirate shipwreck that you can visit for something to write home about. Bit of a winner when it comes to things to do in Bacalar!
8. Get chirpsed at Bird Island
Isla de los Pájaros is a 'bird sanctuary' in the middle of Lake Bacalar.
Getting a boat out there is one of the best things to do in Bacalar for ecotourists and wildlife photographers alike, as all sorts of species flock to and from the island to make use of its rich resources.
9. Hunt for Bacalar's street art
Though a lot of Bacalar town feels a little run-down, shops, schools and houses have been brought back to life in the best way possible: vibrant murals.
Get out of the centre and take a stroll through the backstreets to find some of these colourful pieces; it's definitely among the best free things to do in Bacalar.
Where to eat in Bacalar, Mexico
There are a few swankier looking restaurants in Bacalar that look like they're marketing themselves to the usual Playa del Carmen crowd brave enough to venture down this far (small steps), but for the most part the food served in the town centre is hearty, down-to-earth and authentically Mexican. I've already mentioned La Playita, but I've got some more central options for eats for you too.
As Lake Bacalar was our last stop in Mexico before heading to Belize, we wanted to cram in all the local food we could get, so we spent an unholy amount of time at the Mulix taco stall that sits on the corner of the main plaza. The tortas (usually taco meat and some salad in a big toasted bread roll) served here are excellent.
On the other side of Bacalar's plaza, you'll see Mr Taco Tacquería, which is always bustling, speedily serving up reasonably-priced burritos, tacos, stews, and more. Seafood Mexican dishes are their speciality and the horchata is peng. This place is popular with Americans, perhaps because the owner speaks perfect English and likes a bit of a joke with his customers.
Just off the main plaza, down Avenida 5, there is a food truck court with everything from sushi to Thai ice cream (ya know, the one they roll up off a flat plate).
Bacalar locals love a marquesita, so you'll see stands for this all over the town. Marquesitas are fillled crepes rolled into waffle sticks and oh my god can you imagine how that tastes?!
How to get to Lake Bacalar
Getting to Lake Bacalar From Tulum is really easy, as there is a direct ADO bus that leaves from Tulum terminal every 60-90 minutes and costs 278 mx. This is the bus that comes from Playa del Carmen, so it's simple from there, too! Just take the bus that terminates in Chiquilá.
To get to Lake Bacalar from Belize, you need to get to Corazal border, from where you can taxi across to Mexico and then catch a bus to Bacalar. Check out our guide to getting from Bacalar to Belize City & Caye Caulker here.
The Bacalar bus terminal is a 15 minute walk away from Bacalar town centre, but if you don't fancy carrying your bag for that long there are some taxis to be tracked down along the main road.
When's the best time for all the things to do in Bacalar, Mexico?
In Bacalar, the temperature is roughly the same all year round, but the rainiest month is June, followed by a rainy stint in September-November. Then American summer holidays are no doubt a shit-storm for crowds, so the best time to visit Lake Bacalar is from December to March.
Visiting in semi-rainy November, I actually found the thunderstorms quite a relief as they took the humidity out of the air. However, what did bring things down a little is that the 7 shades of blue of Lake Bacalar are significantly less vibrant during a cloudy day.
Though this won't affect the ability to partake in most of the things to do in Bacalar, it will make them less awe-inspiring. As you can see from the above photos though, we did have lots of clear-sky periods in between the cloudiness.
How long to stay to enjoy the things to do in Bacalar? 3-4 days
Not sure where to go after you've completed all the things to do in Bacalar, Mexico? Check out these options:
Enjoyed this post on things to do in Bacalar, where to stay on the lake and where to eat?
Give it a cheeky save on Pinterest to be able to read about things to do in Bacalar again later!
Last Updated on 3 April 2023 by Cuppa to Copa Travels