Sometimes, I use affiliate/sponsored links with my recommendations, which if bought through might earn me a few pennies at absolutely no extra cost to you. This helps with the cost of keeping this site alive so I can continue to guide you on your travels. Please remember that I would never ever ever recommend anything I don't or wouldn't use myself. Big thanks to each and every one of you who have trusted my recommendations so far! Lozzy x
As it's inclusion in the official collection of Pueblos Mágicos might suggest, there's something real magical about Valladolid, Mexico. Deep in the Yucatan region but still not far from the paradise coastline of Quintana Roo, it feels worlds away from the heaving Mexico mega-spots of Cancun and Playa del Carmen.
Visiting to break up a stay in Tulum, I definitely fell a little bit head over heels with Valladolid. Colonial vibes surround you at every turn, and unlike other Latin American towns, the beauty of the pueblo seems to increase as you head out of the central main plaza… Aaaand then there are the gorgeous Valladolid cenotes, with one being right in amongst all the urban action.
There are a good few days' worth of activities in this area, so buckle up and get stuck into this guide, which will take you through the best things to do in Valladolid, how to get there, restaurants in Valladolid, where to stay and how to explore the Valladolid cenotes.
Many people visit Valladolid as a day trip from larger destinations, like this tour from Mérida, and in fact, the all-inclusive tour from Cancún to Valladolid via Chicken Itza and a cenote is one of Get Your Guide's most popular tours in Latin America.
If you have time though, I'd recommend at least a few days in Valladolid to settle in and get a proper feel for the place – and also to get your fair fill of tacos.
After this post on Valladolid cenotes and all the other things to do in Valladolid, Mexico, you may also want to have a read of:
How to pronounce Valladolid: buy-ah-doh-LEED. Note, there are a fair few YouTube videos on 'how to pronounce Valladolid' by American media companies that are embarrassingly incorrect; only use pronunciation videos made by an actual native Spanish-speaker.
Want to skip to something in particular?
11 unforgettable things to do in Valladolid, Mexico
1. Make a splash at one of the Valladolid cenotes
– Cenote Zaci
Cenote Zací (pronounced say-NOH-tay zah-SEE)  is probably one of the most easily accessible true cenotes on the Yucatan Peninsula. It's walkable from the town centre, and the entrance fee is cheap as chips compared to some of the others around the region.
This most central of Valladolid cenotes is semi-covered, so it feels almost like it's built into a cave underground, but with only half a roof. You can go all the way around via on the (sometime slippery) rocky walkways, or chill in the café that overlooks from higher ground.
The water of Cenote Zaci is DEEP – 100m deep – meaning you can jump from many points around the circumference (but lawwd please check for shallower rocks!). Sometimes, there are even music events here, for which they bring in massive speakers and stick the DJ under the roof of the cave!
The entrance fee for Cenote Zaci is only 30 pesos. It gets busy every 30 mins or so when a new tourist bus arrives, but generally those people don't have time to get wet, so they traipse back out within 10 mins of admiring the rocks.
– Cenote Suytun
This is a fair bit out of the town, but still a very worthy addition to the list of Valladolid cenotes. Suytun is a pretty famous one – it's covered save only a small hole the size of a well right in the top of the underground roof. At the right times of day, the beam of natural light coming in through this hole illuminates directly onto the stone platform that has been crafted in the middle of the pool.
Otherwise, the cenote is a very dark place with lots of stairs, cold water and a queue of people trying to get the perfect Instagram shot – but somehow the beauty overrides this. You'll see stalagmites and stalactites, and probably some nibbly fish.
To swim in Cenote Suytun, you're apparently meant to pick up one of the free life jackets at the top of the stairs to the cave, but there was no one there to tell us nor stop us swimming once in. It's not a particularly deep pool.
Photographing Cenote Suytun is a bit of a pain, due to people not understanding that you're trying to use a tripod to get a high-exposure image so PLEASE STOP MOVING IN THE WAY AND WAIT YOUR TOSSING TURN, but yeah. The best (and busiest) time to go is at around 2-3pm to get the sunbeam just in the right place.
A bit of a park has been built up around Cenote Suytun as locals capitalised on the discovery on their private land, so you'll find toilets, food outlets and souvenir shops above ground in the car park. Parking is free, and the entrance fee for Suytun is 120 pesos (cash only).
– Cenote San Lorenzo Oxman
Another of the semi-enclosed Valladolid cenotes, San Lorenzo Oxman is a little south of the pueblo. It looks like a smaller version of Cenote Zaci, except for one addition – a rope swing! At Oxman, you can hurl yourself past the dangling tree roots and into the dark depths of the pool below.
Situated on the ground of an hacienda, Cenote San Lorenzo Oxman also offers the bonus of having some beautiful grounds to walk through before or after your swim – and also an actual swimming pool in case your cenote swim didn't quite hit the spot.
It's definitely not as busy as Cenote Zaci or Suytun, and only costs 80 pesos to enter (parking and life jacket included if needed). Not far from Cenote San Lorenzo Oxman you'll also find Cenote Saamal, Cenote Samulá and Cenote Xkeken, take your pick!
– How to visit the Valladolid Cenotes
For me, renting a car via Priceline is always the easiest way to get around, but if you're not comfortable/legal driving in Mexico, there are of course other methods to visiting the many Valladolid cenotes. Cenote Zaci is walkable, but to get to Suytun you have the option of an organised tour (some of the Chichen Itza tours from Valladolid and destinations in Quintana Roo include it as a stop) or using the cheapest method which is jumping on a colectivo bus. These leave (when all seats are full!) from the main bus terminal in Valladolid – just remember to tell the driver you're getting off at Suytun.
Cenote San Lorenzo Oxman is a little harder as it's over a mile off the main road so colectivos won't stop directly at the hacienda, but you can still find your own way by renting a scooter for 500 pesos a day, or bicycle for 120, but the climate is hawwwwt with little shade on the main roads so maybe stick to something motorised. Taxis to the Valladolid cenotes are also available from the town centre.
If you're feeling adventurous and the bikes still appeal, this bicycle tour takes you round a handful of the closest Valladolid cenotes. The guide will presumably make sure you don't die along the way.
For those of you cenote-lovers who are heading back to the Riviera Maya coastline after your stay in Valladolid, check out this fantastic guide to the best cenotes around Playa del Carmen.
2. Find peace at the San Bernardino Convent
Apart from swimming in one of the many the Valladolid cenotes, a stroll round the San Bernardino convent is one of the best things to do in Valladolid, Mexico. This was a key site in the colonial missionaries' strategy to turn the local Mayan population into devout Christians, dating back to the 16th century. It was built over another cenote, Sis-Ha; this is significant as cenotes were often seen as sacred by the Mayans.
Entry to the San Bernardino Convent costs 30 pesos, and it's open until 6pm.
3. Watch San Bernardino's evening light show
You can catch the free light show every evening from 9pm outside the San Bernardino Convent, which tells the history of Valladolid and how the convent was built. It plays in Spanish first, then repeats in English.
The light show is free, so make sure you head down a find a place to perch yourself on a bench or curb!
4. Stroll down La Calzada de los Frailes
The bunting-lined Calzada de los Frailes is one of the most beautiful streets in Valladolid, Mexico. For Instagram-fanatics, a walk down here is the most must-snap of things to do in Valladolid.
Down there, you'll find a plethora of adorable boutiques, cafés and restaurants – we spent a fair bit of time chilling in the garden of Trasbien Café. Everything on Calzada de los Frailes is a little tourist-aimed, but stunning nonetheless. This is a great route to get you from the plaza to the San Bernardino convent.
5. Wise up on the region's chocolatey history
Who doesn't like a chocolate museum?! Well, we've got no shortage of things to do in Valladolid for those who love to tickle their tastebuds, and the Choco-History House is a great place to get stuck in. Cacao and chocolate are really important in Mayan culture, used originally as an ancient currency and then becoming a huge international export.
It's a really snazzy museum, with info available in 6 languages, and a short tasting at the end. The entrance fee to the chocolate museum is 140 pesos, but if you don't want to visit the actual museum, you can just pop into the chocolate gift shop instead!
6. Waste a lazy afternoon in the plaza
As with all great Latin American pueblos, Valladolid has a smashing central plaza vibe. Claim a bench in the Parque Principal Francisco Canton Rosado, and watch the world go by.
From here, you'll be able to see all the prettiness of the Iglesia de San Servacio, smell the aromas wafting from some of the many food stalls and restaurants in Valladolid's cloisters, and hear the calling of tour guides trying to stop their visitors getting run over. Dreamy.
7. Get vibrant at Las Coloradas
At certain points in the year, the water of Las Coloradas in the Rio Lagartos biosphere reserve turns bright pink. This is due to the algae that grows here during the process of harvesting salt from the lakes, much like the Pink Sea in Cartagena, Colombia.
Las Coloradas pink lakes are on the coast of Yucatán, so it takes 2-4 hours to get there from Valladolid.
You can go independently with a bus that changes at Tizimín, but a Las Coloradas tour (which includes a boat ride to see flamingos and crocs in the reserve!) is an easier way to have every sorted for you.
8. Buy a bottle at the Tequila Museum
More than a simple tequila shop, El Museo del Tequila has turned selling tequila and mezcal brands into an art. Expect an impromptu tour around the Aladdin's cave of wonders as you browse, and if it's a slow day you might even be lucky enough to be offered some tasting. Much as I hate-hate-hate tequila, the banana flavour was actually pretty damn good!
This makes great gifts for people back home, and is the experience itself is definitely one of the coolest things to do in Valladolid if you don't have to drive anywhere that day!
9. Marvel at Chichen Itza
One of the most unmissable things to do in Valladolid, for sure. The ancient Mayan city of Chichen Itza is only 42km from the centre of Valladolid, making this the closest major town on the Yucutan Peninsula.
Chichen Itza was hugely important in the ancient Mayan world, and its looming pyramids still stand tall today. You cannot touch the stones for preservation, but they're still just as stunning from afar.
You can visit Chichen Itza from Valladolid independently, but you'd get more out of going with a guide who can tell you all the amazing history.
10. Cycle round the Coba Ruins
As I already mentioned in my Tulum guide, Coba Ruins is the smaller sister of Chichen Itza, with fewer visitors and the ability to touch the stonework. You can also hire bicycles to take around the system of paths that run through the park.
The easiest way to visit the Coba Ruins from Valladolid is via car rental or by taking a guided tour – again, I'd recommend a tour for this one so you get more information about what you're looking at.
11. Meet the abejas
In probably the most unique tour in Valladolid, you can visit a dry cenote which has been adopted by bees and their keepers as the perfect place to make honey. You'll learn all about how they produce it and get to try some at the end. And don't worry, the bees are naturally stingless!
Beautiful places to stay in Valladolid, Mexico
Hostel Candelaria has a real-casa feel and mega-friendly staff, which are what have earnt it the only 9+ rating on Booking.com for the lower price range. It's fantastically-located just 2 blocks from the central plaza, and one from the town's main taxi rank.
Just look at the style of the place and you'll see why it's made the list of places to stay in Valladolid. I'm going to call this 'rustic luxe' and go and pour myself a glass of chilled prosecco. Everything about this place screams comfort, and the breakfasts look incredible.
I mean, I feel like once I've said "it has its own cave pool", I don't need to mention much else. But hey, I'm nice, so I will. This very very high-rated gem promises to take care of your every need in the intense sweltering heat of Valladolid, with cosy, hand-painted boutique rooms and an on-site restaurant and bar. Well worth the extra moolah.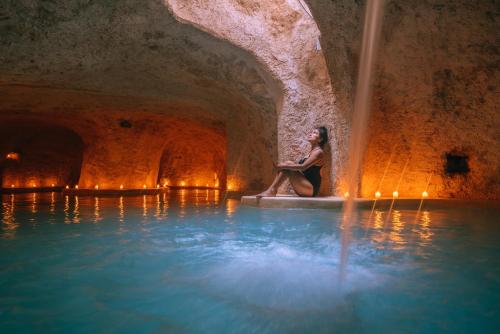 The best restaurants in Valladolid, Mexico
Restaurants in Valladolid cater to all types of traveller. At the more local end of the scale, you can find authentic, cost-efficient family restaurants and street stalls, and way up the other end you'll get swanky gastronomical masterpieces aimed at tourists. The streets are chock-a-block full of restaurants in Valladolid, but of course during our time there we gravitated towards the cheapo food court where the locals are loud and the pigeons are gutsy.
While I'd usually avoid food spots in the very centre of a town due to their higher cost and touristy direction, Lonchería El Amigo Casiano, the absolutely no-frills shop crammed into the arches of a food and jewellery court (odd mix, but hey) has not suffered from being placed right on the main plaza. I can't count how many 12-peso tacos were had, and the Chinese food served at the window next to it is pretty smashing, too. Stuffing your face with cheap food is up there with the best things to do in Valladolid.
If you want to eat somewhere that you can doll up and feel a bit spesh, check out some of the restaurants in Valladolid's swankier corners, such as K'uxub, El Meson del Marques or Yakunaj Cocina Mexicana. These are all very highly rated restaurants in Valladolid, and although pricey for Mexico, still waaay below the price points you'll find for this level of quality in Europe, etc. You can usually find a main meal for under 250 pesos at these kinds of places.
How to get to Valladolid from other parts of Mexico
By bus, it's fairly easy to get to Valladolid. Mexico's ADO bus system means all major towns on the Yucatan Peninsula are very well connected.
Buses leave every 1-3 hours from major tourist spots such as Tulum, Playa del Carmen, Mérida and Cancún, costing between 135 and 300 pesos depending on the time you choose – but watch out as the departure timetable is a bit sporadic and unpredictable across the region. Use busbud to plan your bus journey.
To come from further away, from places like Lake Bacalar, change the bus at Tulum. From Chetumal, there is one direct bus to Valladolid a day with Autobuses Mayab, or a few ADO routes that also change at Tulum.
If you like self-inflicted torture, there is a 25 hour bus from Mexico City to Valladolid (which changes at Mérida), but if you're coming straight here from the capital the best option is probably to fly to Cancún or Campeche and get a much shorter bus for the last leg, as Valladolid doesn't have its own airport.
There is also the option to hire a car, of course. I swear by Priceline – using their portal I was able to get cars at a reduced rate from Tulum; around 400 pesos a day including insurance.
Some car rental companies in Mexico will let you pick up from one destination and drop the car off in another so you don't have to loop back on your road trip.
Where to go after you've completed all the things to do in Valladolid, Mexico?
Some of the most popular places to head next are:
Mérida
Tulum (a great option if you loved exploring the Valladolid cenotes!)
Cancún (best for parties)
Playa del Carmen
Isla Holbox
Like this post on Valladolid cenotes and all the other things to do in Valladolid, Mexico?
Save the below image as a pin on Pinterest to be able to find it again later!
Last Updated on 1 April 2023 by Cuppa to Copa Travels