The Beer Guide: Chile
Sometimes, I use affiliate/sponsored links with my recommendations, which if bought through might earn me a few pennies at absolutely no extra cost to you. This helps with the cost of keeping this site alive so I can continue to guide you on your travels. Please remember that I would never ever ever recommend anything I don't or wouldn't use myself. Big thanks to each and every one of you who have trusted my recommendations so far! Lozzy x
If someone asked you about the alcoholic beverages scene in Chile, you'd be forgiven for jumping straight to some of their world famous wines. In a similar climate to the likes of Mendoza in Argentina, just outside of Santiago there is a whole raft of vineyards including well-renowned brands such as Casillero del Diablo from Concha y Toro.
On top of this, the country is embattled in the age-old debate with Peru over the true origin of the spirit Pisco (with both countries having a town called Pisco claiming to be the home!). It'd be quite easy to write off Chile's beer scene as bland and unspectacular – however, what a mistake that would be.
The party scene in Chile (like the country itself) is diverse; ranging from the pounding clubs of Santiago's Bellavista district, to the quirky bars of Valparaíso and the homely, cosy pubs in Chilean Patagonia. Beer brands play a big role with heavy branding across chairs and parasols of bars in the famous Escudo red widespread across the country, much the same as with Pilsen in Uruguay.
After this post on beer in Chile, you'll also be interested in reading:
Escudo: capturing the essence of the party scene with smart partnerships
As with the previous editions of The Beer Guide in Argentina and Uruguay, Chile matches up in terms of formats. 1L returnable bottles dominate the market and are the most common format to purchase in the on- or off-trade. Most often found are the brands Cristal and Escudo, especially when it comes to the on-trade, although Escudo tend to dominate the higher energy party occasions.
Part of their success is down to a number of impressive partnerships with brands that equally play a key role in the party scene, such as Spotify, running designated party nights alongside the music behemoth.
They have also been part of some interesting activations alongside Cabify (an Uber-style taxi app), offering a free beer for those who arrive to the party using the Cabify app, positioning themselves as a brand that helps you get into the party spirit and plays an important role in facilitating a good night out.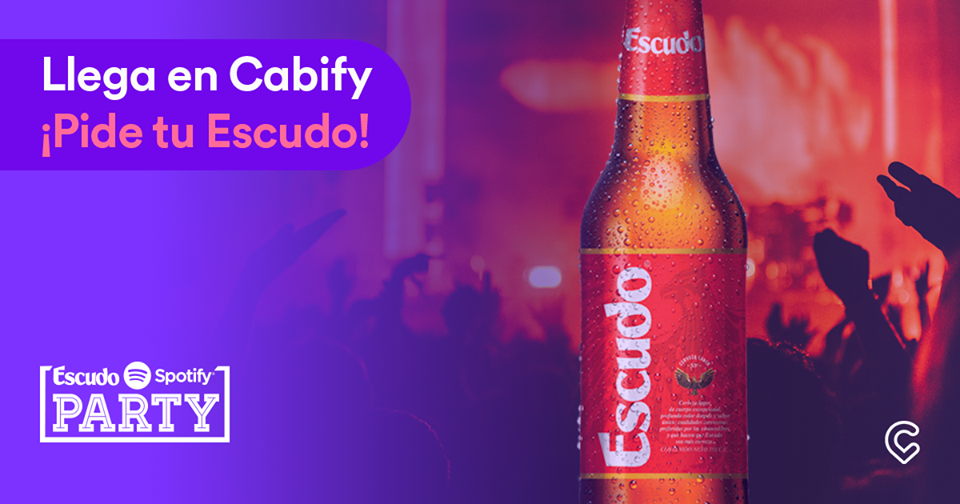 German influence lives on: Kunstmann & beyond
As was the case across Argentina, the beer industry in Chile also has a fair deal of German influence. An influx of German immigrants moved over to Chile in the 19th century as part of a government initiative to colonise the southern regions of the country. This has led to a large proportion of the beer from these areas – and indeed the entire country – having a strong German sway.
Towns such as Validivia and Osorno have a great range of different breweries, micro-breweries and German-style beer halls. And from Valdivia hails one of the best known and most widespread German beers in all of Chile, Kunstmann. The brand projects the strong traditional image that you'd associate with Bavarian beer and even brews in accordance with the Reinheitsgebot of 1516 across their range of beers, including a Lager, Bock, Weissbier and Honey Ale.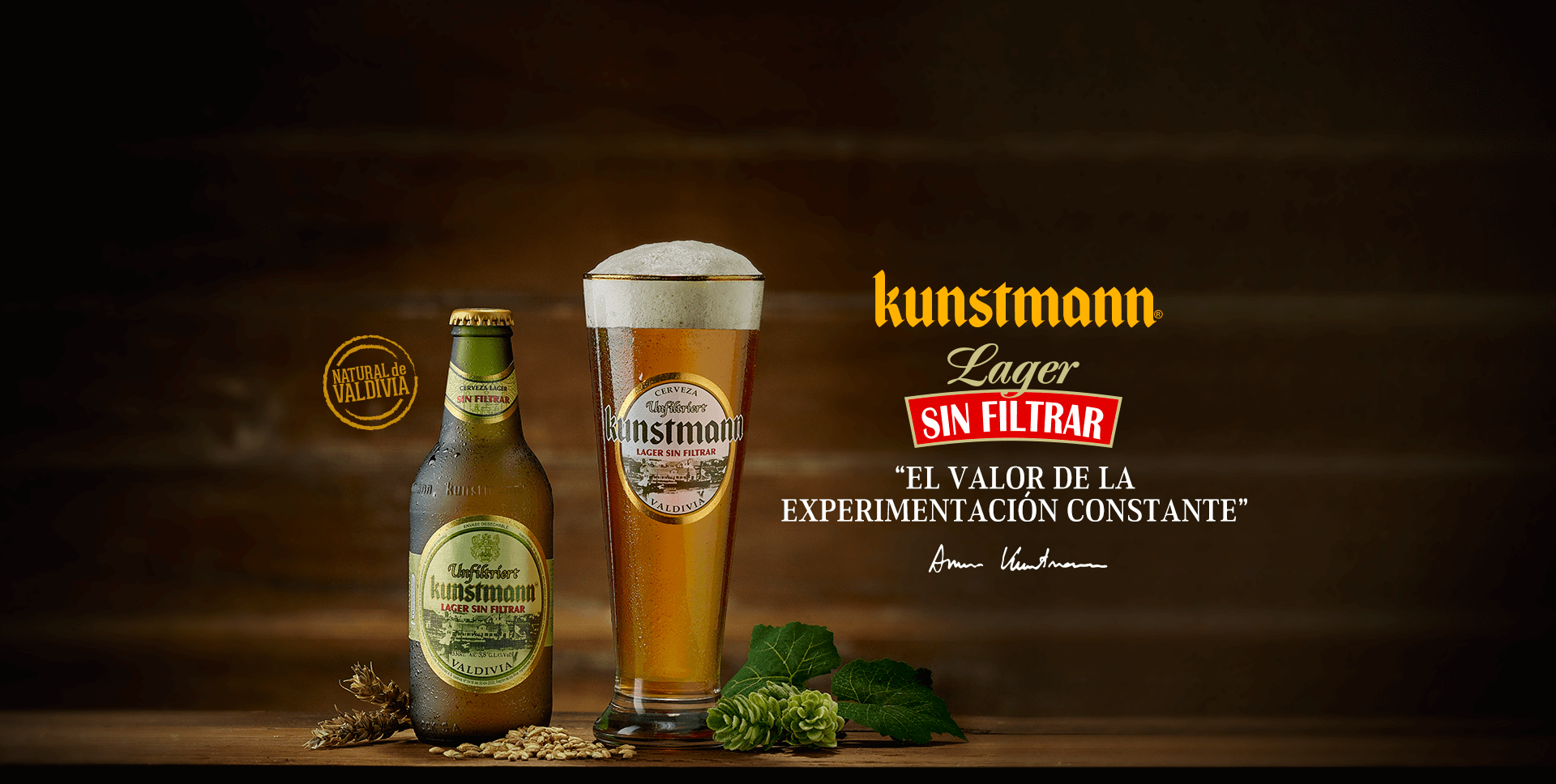 An erupting Chilean craft scene with a rich story
Kunstmann is just one of a plethora of craft beer companies emerging out of Chile in recent years, and forms just a small part of arguably South America's biggest craft movement. Although the majority of beers aren't quite up to US-style levels of hoppiness and strength (or even some of what I saw in Argentina), the Chilean consumer tends to demand a more sessionable liquid.
On top of the difference in strength and style to many Argentinian craft beers, their Chilean counterparts also offer a far more comprehensive story behind the brand and the craft 'experience' in a bar is far more what I'm used to from across Europe or the States – with it easy to find detailed descriptions of tasting notes, brewery heritage and information etc.
Perhaps the best demonstration of the spread of craft was on the island of Chiloe in Southern Chile, where we found a great craft beer pub in the small town of Nercón (which otherwise offered next to nothing in terms of restaurants and bars. The craft beer pub Las Pioneras, which is definitely worth a visit if you're in the neighbourhood, had an extensive and detailed menu of beers on offer and featured a step-by-step guide to different brewing styles illustrated across the walls – giving you plenty to take in whilst enjoying a local craft ale.
Shaken or stirred?
Beer cocktails have been around for a while, always tipped to become the next big thing, although I've never really seen anyone give a proper crack at doing them. From a brand perspective across Europe, the only brand I have seen doing a successful – and delicious – job at beer cocktails is the whiskey brand Auchentoshan, with its Auchie & Ale cocktail.
Go to the other side of the pond and Coronaritas are fairly widespread in the US, which led to an explosion of product launches such as Dos-a-rita (from Dos Equis), Bud Light Lime-a-rita as well as Chelada and Michelada variants from a number of large brands. However, any time I have previously tried a 'beer cocktail' in a bar, I have ended up feeling short-changed, both in terms of flavour and appearance (think a pint glass with a colourful straw; not exactly delivering upon the high-class feel of a quality cocktail).
In Chile, however, a craft beer company called Casa Cervecera Altamira (Altamira Beer House), serve beer-based cocktails that even the swankiest of cocktail bars would have been proud of. Between us, we tried the Martini Pale Ale and Araucano Stout, for which the beer really complemented the taste, rather than feeling forced in order to call it a beer cocktail.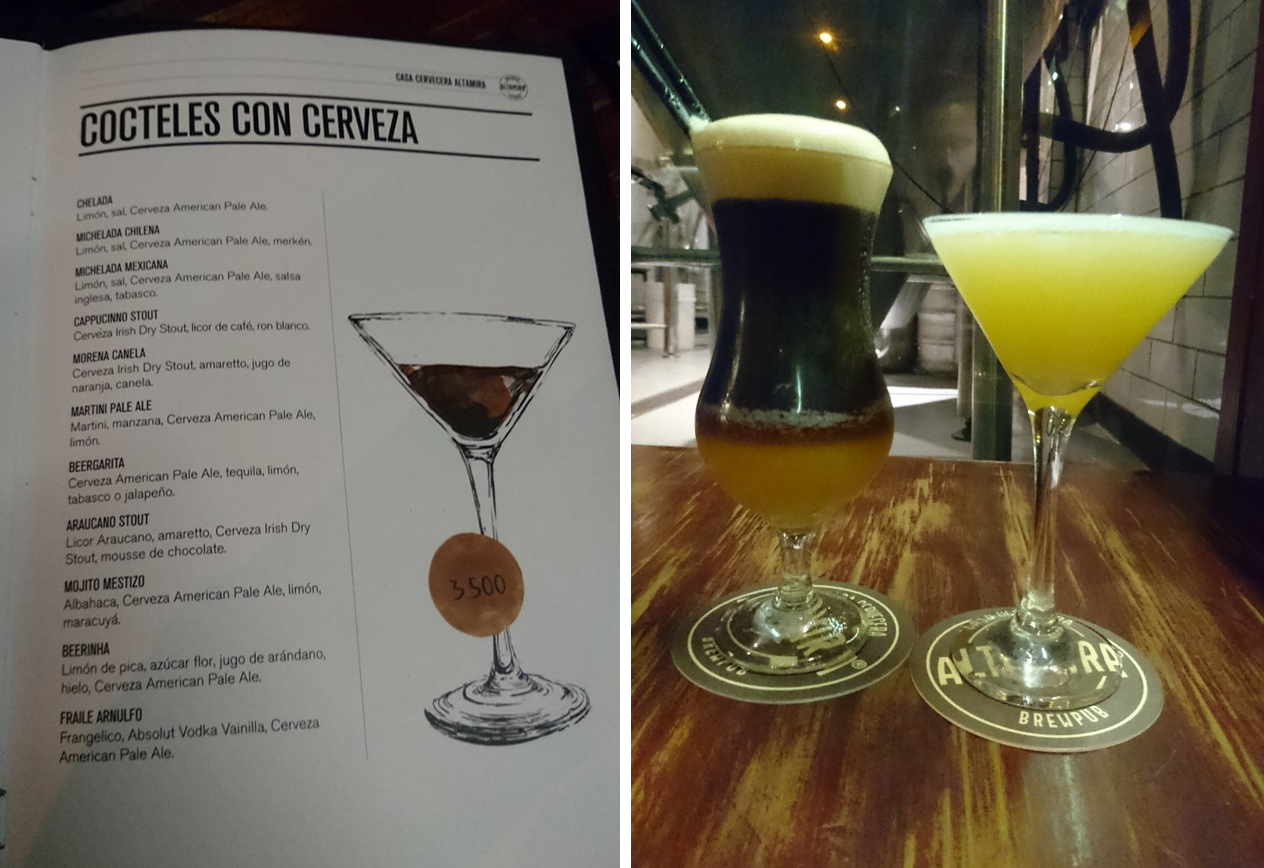 Favourite Beer: Rothhammer Brutal Hops IPA
Of quite an extensive choice, my favourite beer in Chile comes from the craft brewery Rothhammer. A company that I came across back in 2014 at London's 'Imbibe Live!' event, they are an ambitious brand looking to expand their domestic and international footprint who offer a good selection of quality beers – the best of which has to be their Brutal Hops IPA.
Up next comes Bolivia, a country with statistically the lowest GDP per capita in South America, although one which finds inventive ways to spice up the local beer scene.
Enjoyed this branding analysis of beer in Chile?
Check out our branding beer guides for other Latin American markets:
Last Updated on 22 December 2021 by Cuppa to Copa Travels
You May Also Like
17 September 2018
6 November 2018
17 October 2017