Sometimes, I use affiliate/sponsored links with my recommendations, which if bought through might earn me a few pennies at absolutely no extra cost to you. This helps with the cost of keeping this site alive so I can continue to guide you on your travels. Please remember that I would never ever ever recommend anything I don't or wouldn't use myself. Big thanks to each and every one of you who have trusted my recommendations so far! Lozzy x
Right on the border with Ecuador, Ipiales is one of the first towns you'll get to if entering Colombia via bus. The town itself is a little run down, a little dull and a little quiet, but it's a great place to get your first dose of real local life in Colombia.
The main plaza has a certain charm about it that we didn't find in any of the bigger cities, and you can be sure that nothing you see is being put on for tourists in Ipiales because there basically aren't any.
What put the town on the map is the most famous Colombian church, El Santuario de las Lajas.
After this post on the famous Ipiales church, don't miss these guides:
How to get to Ipiales
Lots of the international buses from Ecuador will carry you through to Ipiales, but if you've crossed the Tulcán land-border with Ecuador on foot like we did, right after you get through both border offices you'll see the bus stop for Ipiales. If no buses are due for a while, a taxi from the border office into town should cost around 12,000 pesos (£3). It's a very short journey!
From within Colombia, there are direct buses to Ipiales from popular destinations like Pasto, Popoyán and Cali.
If you want to see the famous Ipiales church in a hurry, you can even fly to the town from Cali or Bogotá.
Things to do in Ipiales, Colombia
There's not a huuuuuge list of things to do in Ipiales; in fact, there's basically just one thing. The main draw of this small town is El Santuario de Las Lajas, the 'put-us-on-the-map Ipiales church'. An insane grey-bricked church built into the valley to commemorate a miracle in the 1700s.
The miracle itself seems a little contrived – a young deaf-mute girl was walking through the valley with her mother and suddenly exclaimed that she heard a voice thought to be the Virgin Mary – but we're glad that things escalated the way they did as it resulted in the most beautiful Colombian church we've seen during 9 months in this country.
You can opt to see Santuario de Las Lajas from the air, by taking the cable car ('teleférico') that crosses the canyon twice. The Las Lajas teleférico runs until 7pm on weekdays and 8pm otherwise, so if you can we would aim to go see the details of the most famous Colombian church on foot just before sunset, then jump on the teleférico once darkness sets and they on turn the ever-so-slightly-tacky-but-very-colourful lights of Las Lajas.
The 18 minute ride costs 10K COP (£2.50) on weekdays and up to 15K COP on weekends and holidays.
A word of warning though, do not visit El Santuario de Las Lajas on religious holidays. On any other day the place seems more on less empty, but we went on Easter Sunday and could barely move for all the locals coming to pray. We couldn't even see inside the church as the people there for Mass were spread out the doors and onto the bridge.
The outside was good enough though – if we still had a living room, this Colombian church is the colour we would paint it.
How to get to El Santuario de Las Lajas, the most striking Colombian church
To visit the Ipiales church, you'll need to take a 10-minute taxi from the town centre. They're easy to flag, or you can use apps such as Uber to take you to Las Lajas.
On the way back from the Ipiales church, we found it cheaper to go with one of the many colectivo taxis parked outside (alongside a family of 5 crammed into the back), though these may not be there on non-holidays with fewer people. Either way, you'll pay only a few dollars each way in a private taxi.
Note that there is a long, steep hill between where the taxis can drop you off/pick you up and the entrance to the Ipiales church itself – cuz, ya know, it's built over a gorge. Can't expect a blessin' without a little effort!
If you're injured and/or old, bring any walking aids you have and factor in some extra time for regular breaks.
Where to stay in Ipiales, Colombia
Because of its lack of tourism (for now!), finding a hostel near the Ipiales church – or in Ipiales at all – may be a little tricky. For that reason, we chose to find an apartment called Mansion Blanca in the outskirts of town, which was humble but perfect for us for the two nights we stayed.
The young owner, William, was fantastic, and picked us up from the centre, drove us to find a cash point and then delivered us to the door of the accommodation.
There are a few swankier gems available, though. Proper luxury can be found at Loft Hotel Ipiales: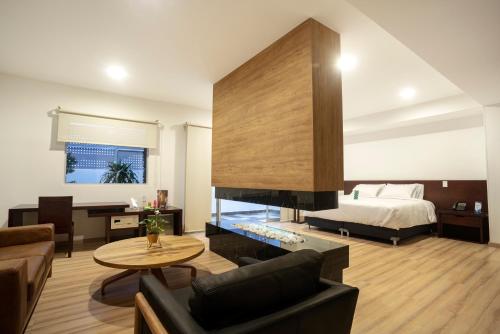 Where to eat in Ipiales
For a snack in Ipiales, you'll find excellent papas rellenas on the corner of Calle 10 and Carrera 6, but for something more substantial we recommend visiting Ricky Hamburger at no.54 Carrera 3.
This place does amazing burgers grilled on a hotplate outside with true local vibes inside (in truth it was a bit uncomfortable being stared at so much when we first sat down, but they got used to us).
Recommended time to stay in to visit the world-famous Ipiales church: 1 full day
After this post on the famous Ipiales church, don't miss these guides:
And if you love beautiful Colombian church architecture, you may also enjoy visiting Mompóx up in the North of the country.

Liked this post on Ipiales and Las Lajas, the most striking Colombian church?
Save any image on this post as a pin on Pinterest to be able to easily find again later!
Last Updated on 28 December 2022 by Cuppa to Copa Travels