Sometimes, I use affiliate/sponsored links with my recommendations, which if bought through might earn me a few pennies at absolutely no extra cost to you. This helps with the cost of keeping this site alive so I can continue to guide you on your travels. Please remember that I would never ever ever recommend anything I don't or wouldn't use myself. Big thanks to each and every one of you who have trusted my recommendations so far! Lozzy x
Seen as one of Peru's greatest beach towns, Máncora is a pretty cool spot along the coast. There are three faces to it, the slightly tacky Magaluf-esque party side, which you'll find to the south of Playa Máncora, then the peaceful surfer vibes that you'll find to the north, and the luxe strip of beach-front hotels south of the town itself, towards Pocitas.
While not what you might call tropical paradise, Máncora is a place where people tend to get sucked in and want to stay just a few days longer than originally planned. This guide will take you through the things to do in Máncora, where to stay and where to eat, as well as some info on safety in Máncora.
After you've finished reading about Máncora, Peru, check out these posts:
How to pronounce Máncora: MAN-cor-rah (definitely not man-COOOORA)
Where to stay in Máncora
For backpackers
For exciting vibes and to meet other travellers, you're going to want to be staying along Playa Máncora. Don't expect too much luxury in this area though; it's a surfer party town aimed at young backpackers. That being said, if you're firmly against the idea of comfort, and want to ensure you have no choice but to party every night because your bed is too short, there's no aircon, and every single dorm faces the bar which pumps out beer and music until 5am, get yourself down to Loki Hostel for the time of your life.
We had planned to ask to stay and work at Loki Hostel for a fortnight or so because its reputation is strong amongst travellers in Peru, but actually ended up leaving after our second night as guests because although it was great fun in the day, we couldn't stand the dirty, sticky, sleep-deprived feeling of being there anymore. We were still able to come back to party in the evenings (bring your passport for the doorman to check), so we didn't have to suffer when it came to sleeping.
The rival party hostel is The Point, which we popped into for a beer or four. The vibe there is a lot more laidback than Loki. Again, you don't have to be a guest to party there.
On another recommendation, we found ourselves for the last 3 nights staying in Psygon Surf Camp. This was way more up our street; it still had a pool, was still right next to the beach, still had a bar, but everything was just way more chilled and enjoyable. The dorms were doable, but we switched to a double room for the last night which was the cherry on top.
Right on the beach there is also an awesome-looking collection of bungalows called Misfits Hostel. We've heard good things from people who have stayed there, so definitely worth seeing if they have availability.
For glampackers
If you have a little more coinage in your piggy bank, and are looking for a more comfortable place to stay, head south out of the town, towards Pocitas.
Here, you can expect accommodation to be pricier, but totally worth it for the more tranquil beach, beautiful rooms and stunning beachside pools.
This is where you'll find Selina Máncora – for those who don't know, Selina is a network of boutique accommodation that's aimed at digital nomads and glampackers. It's got stunning decor as always, beach huts and a straw-roofed bar.
To level up from this, you'll want to check out Adobe Villas for their incredible beachfront bungalows equipped with their own porch and hammock.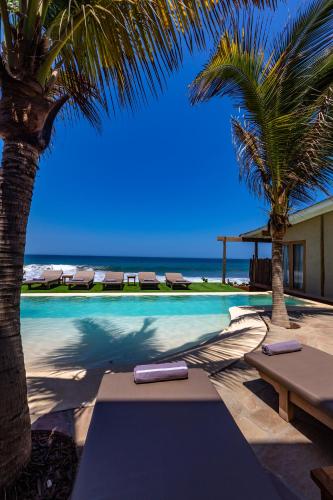 What to do in Máncora
1. Chillax in the sand
Playa Máncora is the main draw for this town. It's a perfect spot for parties at night and hangover cures in the day. We'd heard complaints that it was dirty and littered, and perhaps in high season it is, but when we went during February we found the beach to be beautifully clean, and mostly empty of people.
The only annoying thing is the sheer number of ATVs which tear up the beach at full speed, hurtling around sunbathers. Health & safety isn't too big here.
The beach is huuuuuuge, so it's lovely to walk down at sunset. Things get a lot less busy the further North you go.
Another popular beach is at Pocitas. This has a lot more higher end feel, as it's lined by luxury villas.
2. Catch an epic sunset from the lighthouse
El Faro de Máncora is the lighthouse which looms over the south side of the town. This can be accessed by just a short hike up the hill. Time this for sunset for incredible views over the coastline. The walk will take you up some undeveloped areas, so we'd wear shoes rather than flipflops.
3. Learn to surf in Máncora
Máncora is primarily a surf haven. The waves are fairly large, but not so big that it's unsuitable for beginners. There are a plethora of surf schools along the beach that will offer you lessons and board rental – many of which are linked with hostels for discounts on classes.
And the good news is, you probably won't need a wetsuit as the sea isn't too cold. Hurray!
4. Swim with turtles
Another big attraction in Máncora is swimming with turtles. These turtles are wild, and so we assumed it would be more like a whale-watching style trip, in which sometimes you find a few whales and sometimes you don't, oh well. But nope, we got driven 45 minutes to a town where these turtles hang around by the coast because they're baited in using… Can you guess? Fish, maybe? Nope, ham. Porky, piggy ham. That ish ain't natural.
Incredible experience as it was (some of the turtles were over a metre long and wide), we probably wouldn't have done it had we known how damaging it is to the ecosystem.
Where to eat in Máncora
Along the main road, just as you come into the town from the South, you'll find a wealth of bars, cafés and restaurants aimed at the more affluent tourists. Whether you're looking for burger, thai or vegan restaurants in Máncora, they've got you covered; some places in Máncora even have gluten-free options. This road does tend to be more pricey, though.
If you're on a budget like us, head towards the beach down the first road after Loki Hostel, where you'll find Menu del Días for around £2, cheap tacos and plenty of street food.


On the other side of town, within Psygon Hostel is a sushi bar, which sells incredible sushi platters – they're slow to serve and not so cheap, but YUM. You don't have to be staying at Psygon to enjoy this food. On that note, the regular bar here also serves very cheap sandwich and juice combos for lunch. Just a great place, really!
And in between the two major hostel areas, in the middle of the maze of dusty residential streets, is Surfer's Bar. This is run by one of the ex-founders of Loki Hostel. Disappointed with new direction the hostel was being pulled in (namely extended bar hours, shit mattress replacements and refusal to do general maintenance) this total geezer decided to jump ship and open a bar/restaurant for both locals and tourists.
On Sundays, he does an incredible Chinese Box roast pork which is OUT OF THIS WORLD. Also, beer pong.
Leaving Máncora by bus
Máncora to Ecuador or Máncora to Lima/Huaraz
As always, we would recommend Civa as your chosen mode of transport. Their office is on the main road, about 400m from Loki Hostel (much as we didn't enjoy it, Loki provides an excellent directional landmark). If you're heading down on the 20 hour drive to Lima, getting a Superciva or Excluciva bus is a must for your own sanity. However, if you're heading up into Ecuador, their routes are limited to Guayaquil only, so you'll have to look elsewhere.
We ended up traipsing up and down the main road to find a bus company that would take us to Cuenca. In the end, we found a little family business that sold us tickets for 45, but we realised that if we'd have gone straight to the 'terminal' (a little convenience store with some red plastic chairs in the road outside) we could have saved the commission charges.
The family also oddly made us arrive 30 mins early, sit and awkwardly watch a Netflix film with their kids, and then they led us 50m down the road to the 'terminal' where we discovered we had another half an hour until our bus arrived at 11pm.
The bus was comfy enough, the Ecuadorian border was very smooth and had only a 15 minute queue for stamps, and we arrived in Cuenca on time at around 6am.
Where to watch European football leagues in Máncora
You know it! Loki Hostel is the best place with multiple screens, but Psygon also showed a few select games.
Is Máncora safe?
For the most part, yes, the tourist areas of Máncora are safe, though locals recommend not wandering the streets on your own at night. You do have to be quite wary of scams, as we met a few travellers who were tricked out of their change in a fake note switcheroo from a tuktuk driver, and also a couple who got caught up in a drug deal police sting (though admittedly I have far less sympathy for those two).
About a mile down the beach to the north side of Máncora, there is a barrier in line with Psygon Hostel which warns you not to go further than that point. Take heed, this end of the beach backs out onto the grimier side of town (which is a large amount bigger and more bustling than the strip tourists stick to), and every hostel tells you not to go past that barrier for a reason.
Recommended stay to enjoy the things to do in Máncora: 2-3 days (more if learning to surf)
Now you've finished reading about Máncora, Peru, check out these posts:

Liked this post on the things to do in Máncora, Peru?
Give it a cheeky pin on Pinterest to save it for later.
Last Updated on 5 November 2022 by Cuppa to Copa Travels